When the opportunity for this review arose, we were asked to select which literature guide we would want to review. Since we were about to have the opportunity to not only read the book, but see the live performance, I chose
The Screwtape Letters Literature Guide
for my family to use and review.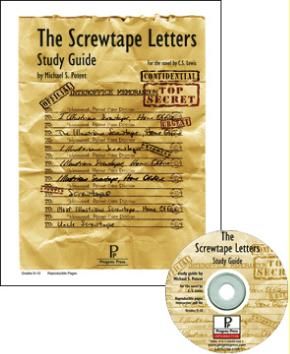 Progeny Press

has over 100 different literature guides covering great literature for all age groups, from

Mr. Popper's Penguins

to

Julius Caesar

.

The Literature Guide for The Screwtape Letters

is an interactive PDF file consisting of 75 pages of very thought provoking mate

rial, plus a 10 page Answer Key for the teacher/parent. This version is

interactive

on Windows or Mac computers. It includes background information about the author, the time per

iod in which the story was written, and then the chapters are divided into smaller sections and there are vocabulary questions, questions for comprehension, analysis, digging deeper questions and optional activities. All of this is designed to help your student to

"think clearly, to understand literature, and to rely on scripture for truth and values

,

and enjoy themselves while they do it!" According to the Progeny Press website, the middle and high school level study guides should take 8 - 10 weeks to complete. It is also recommended to read the novel in its entirety the first week, and then use the guide to work through the book again to glean more from it.


It is very cool to me that the students can type

their answers

right into the document (no handwriting required!) For my teens, this is huge! There are actually samples of this interactive type of literature guide available right on the Progeny Press website. Also, you can search through the inventory of literature guides by genre as well as grade level. They have taken some of the best literature ever written and produced very comprehensive study guides that are age appropriate and a lot of fun for the students.


The Literature Guides are available in three different formats:
As a printed and bound booklet for $21.99
On a CD in .pdf format for $18.99
As the same .pdf file as an e-mail attachment for $18.99
Or you can get both the CD and booklet for $27.99.
Overall, I am very impressed with Progeny Press' Literature Study Guides. A lot of work has been put into each of these and they really delve into the literature in so many ways and bring a Biblical perspective to all of these great books.
If you would like to read more reviews of
Progeny Press' Literature Study Guides
, visit the
TOS Review Crew website here
for more reviews.
I received this product for free in return for an honest review. I have not received financial reimbursement for my review of The Screwtape Letters Literature Study Guide by Progeny Press.