In our family, we love to play games! So I was thrilled to find out that I was chosen to review
Tri-Cross
, a new strategy board game for families with short attention spans.
This is a very beautifully and professionally made board game that was designed to utilize the strategy of games like chess, checkers and dominoes, but in a much-less-than-marathon time frame. In fact, this game plays in just about 5-10 minutes, which means you can play multiple times, employing different strategies and still be done in time to make dinner! Then you can employ the more difficult version of play (face down) and go again. Although it says for ages 8 and up, there are some younger kids who could learn and play this game with their families as well. Kids who like chess and checkers will probably like
Tri-Cross
as well, if not more.
Tri-Cross
was first created 25 years ago by a father who wanted to design a game that could be learned and played out within a short period of time and also become increasingly challenging. He made and sold a few hundred of the games, but then let it sit on a shelf until 2007, when his sons encouraged him to put the game back out on the market. In 2008, his son took over the reigns and the game started to gain traction. The company is called
Games for Competitors
and they have several different versions of the game available, including an
Eco-Edition/Travel Edition
in which the board and bag are made of organic cotton and canvas. They fold up nicely into a travel size version. All inks are non-toxic and the sizes of the board and bags were decreased to save on material waste.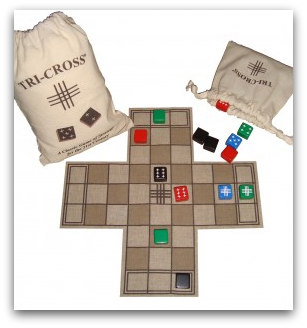 Tri-Cross
won the Mom's Choice Award in 2010 and the
Eco-Edition
won the Dr. Toy's Best Green Product Award in 2010, as well as Creative Child Magazine's Game of the Year Award in 2008 and Dr. Toy's 100 Best Products winner. Truly an award-winning game!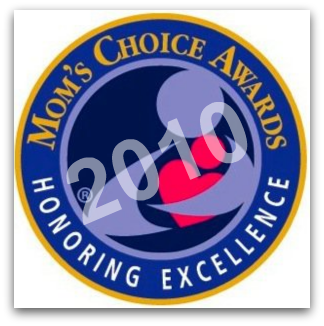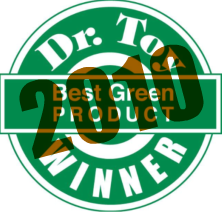 Because the game can be a little tricky to get the hang of at first, they provide some very nice
video tutorials
on their website to get you started, both with the beginner version and the advanced version.
I have to say that
Tri-Cros
s has the potential to become a classic like chess, checkers and even Monopoly! It has all the elements of a great game, is fun to play and is made to a very high quality standard. Once you get the hang of it, it is quite easy to teach to new players, yet also tests memory and logic to a very high degree. I look forward to many more years of playing this game with my 17-year-old son! And I am very thankful to the Burns family for giving us this great way to connect and spend quality time together!!
You can purchase the Standard Edition at your local game store or online for $24.95. There is also a Wood Edition available for $35.95 and the Eco-Edition which is $19.95. They also donate 10% of every purchase of their Eco-Edition to the Captain Planet Foundation. There is a list on their website of all the
local retailers that carry Tri-Cross
, too. You can also connect with Tri-Cross via their
Facebook
page.
I received this product for free in return for an honest review. I have not received financial reimbursement for my review of Tri-Cross from Games for Competitors
.