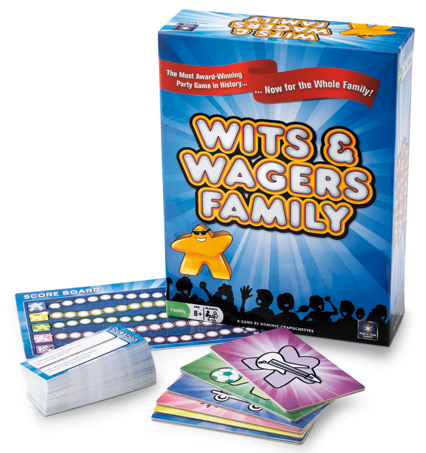 Since the kids and I love to play games, I always jump at the chance to review games that are age appropriate for my teens. So I was excited to be chosen to review
Wits & Wagers Family
by
Northstar Games.
At first my kids were a little hesitant because they thought the game was probably for little kids. However, once we started playing, we played quite a few rounds because neither teen would concede defeat. So, I must share that, even for teens, it is a really fun game!! It is designed for three or more players ages 8 and up.
It is very simple to get started with the game and they provide EVERYTHING that you need to play. There is a deck of questions that you "guess" the answers to by writing down your answer on a write-on/wipe-off card with markers that are included. Then everyone places their "wager" by using Meeples (small and large wooden people-shaped tokens) to indicate which answer they believe is correct (or closest without going over). You can score points by selecting the correct answer as well as giving the correct answer. Scores are kept on a write-on/wipe-off card which can be used over and over.
This fun game is available from a variety of
national retailers
including Target, Barnes & Noble and Borders, so don't miss out on adding this game to your family's game cabinet for the holiday season! Prices may vary depending on where you purchase.
Be warned -
Wits & Wagers Family
can be addicting!!! And you will actually learn a lot in the process of playing the game - a side benefit! My 17 year old son said, "You should give this game a good review. It was fun!" Yes, that is my varsity football lineman/wrestler son - it was that fun!
Northstar Games
also offers the original Wits & Wagers version as well as Say Anything that I will review in a few days.
Check out their website at www.northstargames.com.
I received this product for free in return for an honest review. I have not received financial reimbursement for my review of Wits & Wagers Family by Northstar Games.