Even though I am in my third year of homeschooling high school, Literature has been a challenge as far as being sure that I am using the best curriculum for us. So when I was given the opportunity to receive Introduction to Literature from Everyday Education, I was very interested to see what the course entailed. I received the curriculum via download, so it was immediate and I can print out the pages to put into a 3-ring binder at my leisure.
At first glance, I was impressed with the selection of literature that is included as the focus works. They are top quality classics that every child should read before graduating. Then as I spent time reading and reviewing the 132 pages included in this curriculum, I became more and more impressed with the quality and content of the program. Here is an excerpt from their website which gives a synopsis of the curriculum:
"Introduction to Literature is a college-preparatory literature and composition course. Focus works, including novels, short stories, poems, and drama, have been selected for literary quality, and for their place in the historical development of literature. Context readings provide background information about the author, the historical period, and the literary and artistic context of the focus work.
Students will gain an understanding of the development of literature and will practice the skills of close literary analysis through essays, approach papers, and other evaluative writing. You may learn more about how I chose the literature for Excellence in Literature in this blog post."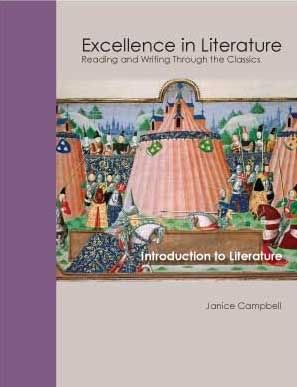 Introduction to Literature is a complete course that includes composition in many different forms such as compare/contrast essays, literary analysis papers, approach papers, poetry analysis and more. This curriculum encourages the student to work independently and to learn how to delve into literature and analyze it.
We didn't get very far along in this curriculum yet, but I will give you an idea of what it is like and the schedule. In Unit One, the student will begin by reading "A White Heron" by Sarah Orne Jewett as the focus text, which is a short story and is available via a link in the curriculum. As context reading, there is a biography of Sarah Orne Jewett for the student to read. The student will then learn to write an approach paper, and discover or review the five elements of fiction: Plot, Theme, Characterization, Setting, and Style, in five great short stories. The unit is set to be covered in 4 weeks, so there is plenty of time for the students to spend reading and writing as required, if they spend about one hour per school day on this subject. The following units are all based on longer novels which are to be read over a 4 week time period, as well as the accompanying papers written.
Objectives
By the end of the course, students will:
Understand the process of writing, including the use of tools such as a writer's handbook, dictionary, and thesaurus.

Have specific understanding of selected representative texts by major authors of the periods studied.

Have a general understanding of the historical and cultural contexts of the works.

Be able to analyze literary texts and present thoughtfully developed ideas in writing.

Demonstrate competence in essay organization, style, and mechanics.

Unit 1: Short Stories by-
• Sarah Orne Jewett: A White Heron
• Edgar Allen Poe: The Purloined Letter (This one is not scary, if you're concerned about that.)
• Guy de Maupassant: The Diamond Necklace
• O. Henry: The Ransom of Red Chief
• Eudora Welty: A Worn Path
• James Thurber: The Secret Life of Walter Mitty
Unit 2: Around the World in Eighty Days by Jules Verne
Honors: 20,000 Leagues Under the Sea by Jules Verne
Unit 3: A Connecticut Yankee in King Arthur's Court by Mark Twain
Honors: The Prince and the Pauper by Mark Twain
Unit 4: Jane Eyre by Charlotte Brontë
Honors: Shirley or Villette by Charlotte Brontë
Unit 5: Pygmalion by George Bernard Shaw
Honors: Murder in the Cathedral by T.S. Eliot
Unit 6: Treasure Island by Robert Louis Stevenson
Honors: Kidnapped by Robert Louis Stevenson
Unit 7: Animal Farm by George Orwell
Honors: 1984 by George Orwell
Unit 8: The Tempest by William Shakespeare
Honors: A Midsummer Night's Dream by William Shakespeare
Unit 9: Gulliver's Travels by Jonathan Swift
Honors: The Pilgrim's Progress by John Bunyan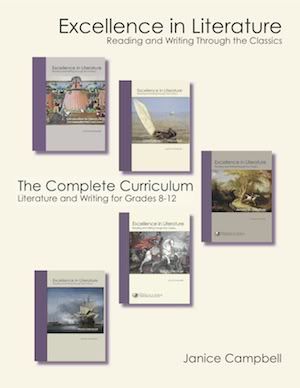 There are five levels available in Excellence in Literature which together make for a complete college-prep high school study of Literature for 8th through 12th grades. For a very reasonable price,
Introduction to Literature: English 1 Print Book $29 + $4.95 shipping, you can receive an incredible Literature curriculum for your high school student. Or you can choose the ebook version for $27 and receive it immediately via download. If you are just beginning your high school journey, you may choose the complete comprehensive 5-year curriculum package which includes Introduction to Literature: English 1, Literature and Composition, American Literature, British Literature and World Literature all in a professionally printed binder with tabs for only $139 plus shipping.
If you would like to read more reviews by TOS Review Crew members, click here and you can read many more opinions of this product.
You can visit the website at www.everyday-education.com and can even get a sample unit so you can see if this curriculum is a good fit for your family.
I received this product for free in return for an honest review. I have not received financial reimbursement for my review of Introduction to Literature from Everyday Education.