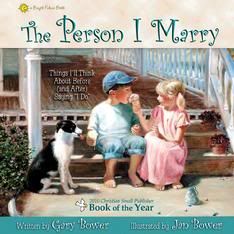 The Person I Marry
by
Bower Family Books
is a book I wish I had known about when my teens were younger. This gorgeous book by Gary Bower which is illustrated by his wife, Jan, is surely a lifelong keepsake! I received this book as an ebook, but I assure you that I truly wish I had the hardcover book to keep and pass on to my children. In fact, I think I might just have to buy one for each of my teens!
The Person I Marry
is a 32-page picture book that is appropriate for all ages from young children to adults. It would even make a really nice wedding or anniversary gift, "reminding us of what our partners really mean to us." Throughout this beautifully illustrated book, in wonderful rhyming verse, the character traits that are most important in a spouse are portrayed and demonstrated in such an awesome way.
"The person I marry won't have to pretend
just to impress me. I want a friend,
one who can share, but can also receive.
That is the marrying type, I believe."
This and similar verses portray without question the "true gems of character" to look for in a mate in a way that you can begin to share with your young children, your adolescents, and even your young adults. The illustrations are incredible oil paintings of children by Jan Bower, wife of the author, Gary Bower. She is incredibly talented as an artist and there is so much fun and feeling portrayed through her paintings used to illustrate this book.
My teen son and daughter read the book with me and were very impressed with the quality of the paintings and the way it shares those wonderful traits that they should be looking for in a mate.
The Person I Marry
, part of the
Bright Future
book series, is available through
Bower Family Books
for only $11.49 and you can order it, as well as see all the other beautiful books available, at
www.bowerfamilybooks.com.
Here is a video where you can see excerpts from the book, as well as hear from the author and illustrator, Gary and Jan Bower, about the book:
The Person I Marry
from
Bower Books
on
Vimeo
.
If you would like to read more reviews of
The Person I Marry
, you can hop on over to the
TOS Review Crew linky page
to check them out.
I received this product for free in return for an honest review. I have not received financial reimbursement for my review of The Person I Marry by Gary Bower.